Christoph Felix Schmidt
In a red-hot battle the Austrian Thomas Steger won the 8th Eberl Chiemsee Triathlon on Sunday in front of the triple European Champion Michael Raelert. The Swiss Caroline Steffen was fastest woman over the 2 kilometers swimming, 80 kilometers cycling and 20 kilometers running. On the shorter Olympic distance (1.5 / 40/10 km) Marc Eggeling was able to conquer the podium again, in the womens field the Australian Kelly-Ann Perkins was unbeatable. The day before, the Sprint Distance and the new Mixed Team Relay were held. In total, 1.247 athletes finished over the different distances at the Triathlon Festival in Chieming.
The eighth edition of the Eberl Chiemsee Triathlon, was a red-hot battle: barely any clouds, no wind, temperatures just under 40 degrees. Experienced triathletes even spoke of the "Kona" of Bavaria.

In the early morning, athletes plunged into the waters of the Bavarian Sea. This time without a wetsuit – because with over 24 degrees the lake was too warm. As expected, the highly favored Michael Raelert took the lead in the Half Distance. He even left the top swimmer Christof Wandratsch behind. On the bike, the Half Distance expert showed his class and largely dominated the field. Horst Reichel, Julian Erhardt and Steger had opened the hunt for him. On the running course then, Steger gained ground with every kilometer, until he had caught up to Raelert on the last two of the four 5-kilometer laps. Steger secured his third victory at Chiemsee with 3:39:58. Raelert finished second infront of local Julian Erhardt.
Caroline Steffen triumphant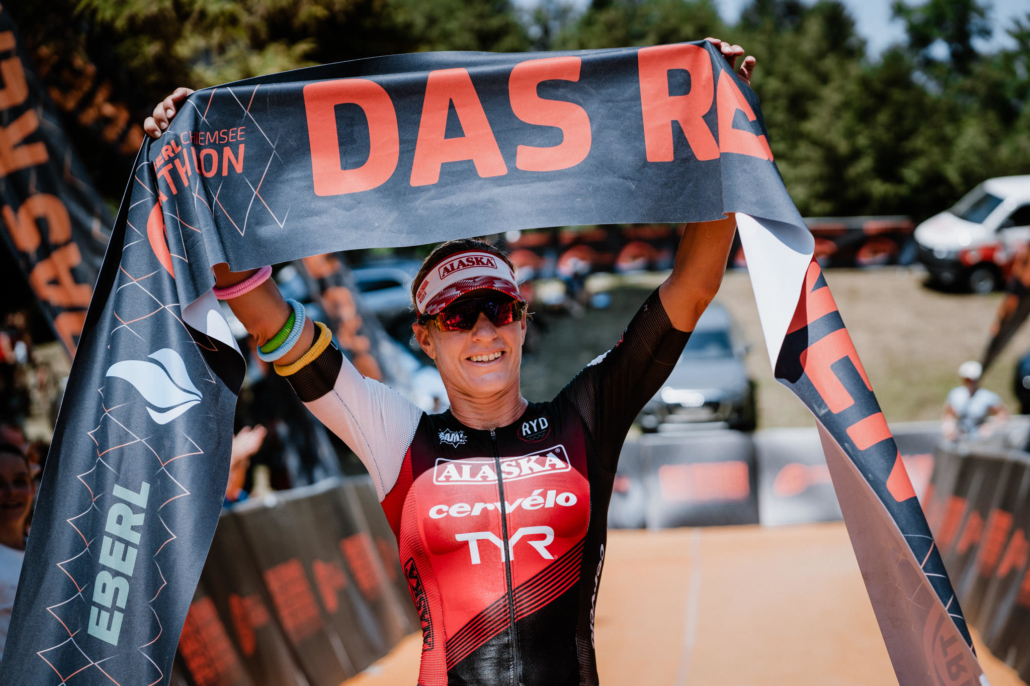 In the womens race, Caroline Steffen did not come out of the water first. But on the bike and on the running course she played out her experience and skills. With a time of 4:07:57 she brought the victory home. "The bike course is stunning," said the six-time Ironman winner and two-time Ironman Vice World Champion "The Race". After her the surprise of the day crossed the finish line: Laura Zimmermann has fought from fifth to second place. "I gave everything today," she said, praising the residents and volunteers. "The residents have almost saved my life, thanks for all the water hoses out there." Many Chiemgau residents let it "rain" for the athletes. Third was Chantal Cummings.
On the Olympic Distance Marc Eggeling repeated his victory from the previous year. "In a race like the EBERL Chiemsee Triathlon, knowing the course is incredibly important." The experience of four participations in Chieming earned him the second title – ahead of Nikolaus Wihlidal and Maximilian Kirmeier, who won the Volksdistanz the day before (0 , 5/20/5 km). For the women, the victory went down-under: Kelly-Ann Perkins roared over the course and came in far ahead of last year's winner Caroline Lehrieder and Pauline Neidel. "I had a great time out on the great course," said Australian Perkins in the final interview.
https://www.chiemsee-triathlon.com/wp-content/uploads/2019/07/Caroline-Steffen.jpg
1365
2048
Christine
https://www.chiemsee-triathlon.com/wp-content/uploads/2019/03/Header.png
Christine
2019-07-01 13:11:22
2019-07-28 13:11:33
Steger beats raelert in a red-hot battle at the Lake Chiemsee – Caroline Steffen dominates