You and your team are racing a mixed team relay for the first time and you've got questions? We collect all your questions here and answer them. Still questions? Send yours to christine@wechselelszene.com!
Is a Mixed Team Relay the same as a triathlon relay?
No.
During a triathlon relay each team member races just one discipline.
During the Mixed Team Relay each team member completes a full triathlon and passes the baton on to the next team member.
How many team members do I need?
At the EBERL Chiemsee Triathlon you need a total of three team members – including at least one woman.
In World Cup, two men and two women form a Mixed Team Relay Team.
What serves as a baton in Mixed Team Relay?
The timing chip.
When you have completed your triathlon and are back in the transition zone, you hand over the timing chip to your next team partner.
The hand over happens exclusively under the tent ("Übergabebereich").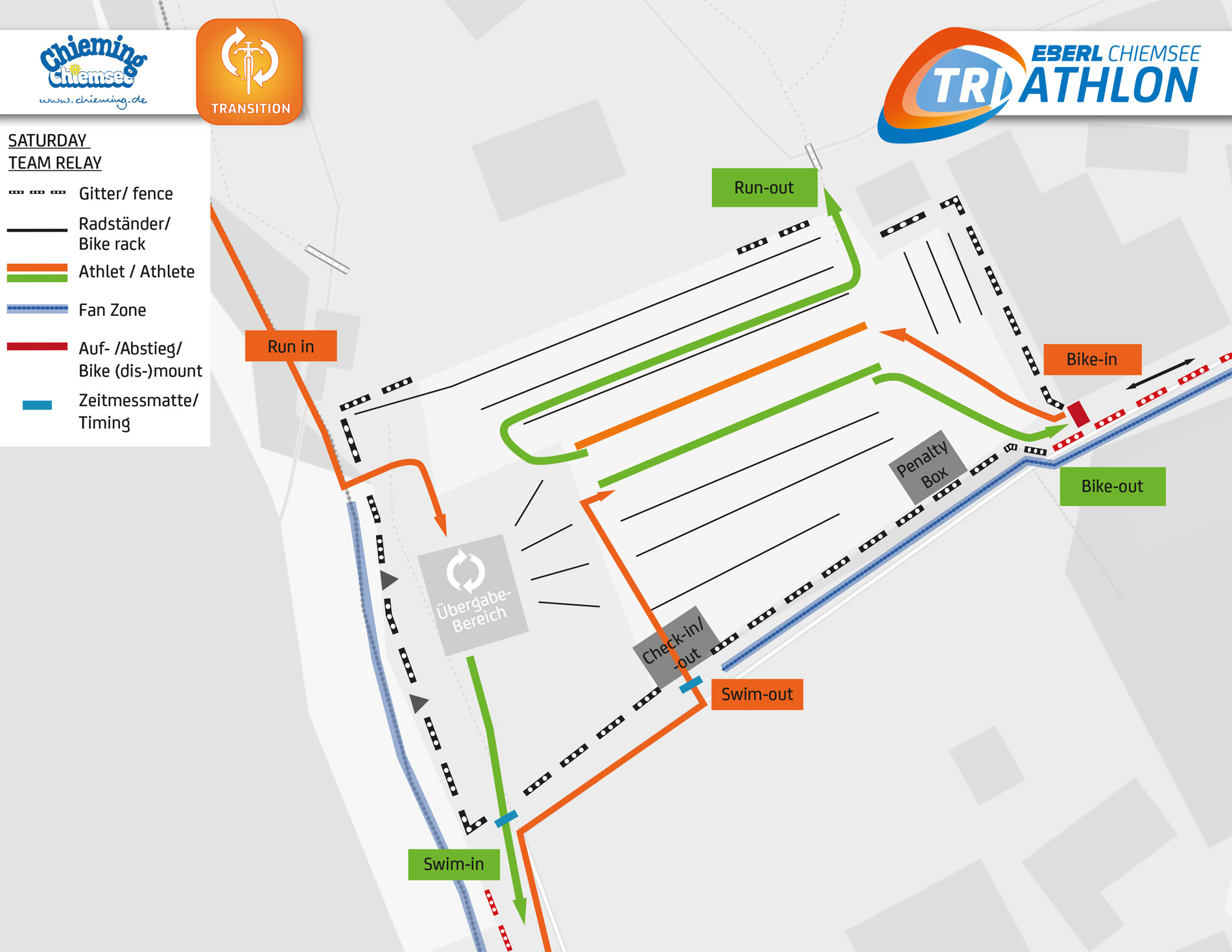 Each team member has his/her own start number which is handled just as during a normal triathlon. That means, you can not wear it while swimming, you have to wear them in the back when cycling and in the front when running.
Is it a non-drafting race?
Yes.
For safety reasons, the Mixed Team Relay at the EBERL Chiemsee Triathlon is a non-drafting race.
The rules of the DTU sports regulations apply.
This also means that you are allowed to ride your TT.
What is special for the first athlete of a team?
The first team starter is the only one to do a land start.
The start takes place at 2.00 p.m. in the lido of Chieming.
What is special for the last athlete of a team?
The last athlete of each team runs a bit longer in the direction of Stöttham on the running course. As a result, the athlete does not run back to the transition zone, but with his team to the finish line at the Chiemseering.
The Mixed Team Relay turning point is marked by a sign and ground markings.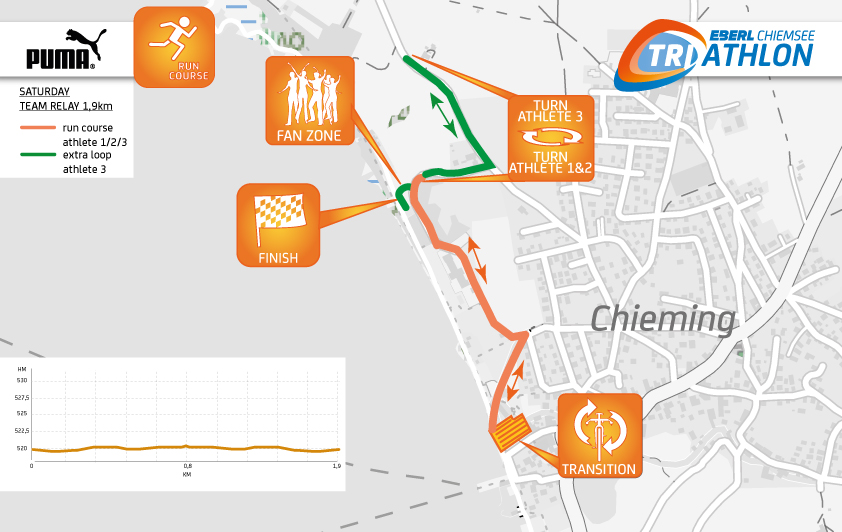 Do I have to jump from a jetty into the water?
Yes (if you are 2nd or 3rd athlete of your team)
The second and third athletes of each team start their triathlon race by jumping off the ponton. Please pay attention to your colleagues!
How is the transition zone organized?
Your team has its own team area in the transition zone.
Your bikes hang here, each athlete has a box in which he puts his things.
The transition bags will not be used in the Mixed Team Relay!
Are we free in arranging our team order?
Yes.
You can define your team order yourself. Just make sure that your starting numbers are correctly distributed: Athlete 1 is wearing the team number "A", athlete 2 "B", etc.