Welcome to the EBERL Chiemsee Triathlon – Das Rennen 2022!
On June 25th, 2022 the popular EBERL Chiemsee Triathlon – Das Rennen will return. We are happy to present and experience a spectacular race at Chiemgau in Bavaria!
For the first time, the race will be held as an evening event with an Olympic Distance and Half Distance race. Look forward to a unique atmosphere in a mild summer night and celebrate your finish at sunset!
Crystal-clear water, majestic Alps, the splendid Herrenchiemsee Castle – Race where others spend holidays of a lifetime! In summer 2022, the EBERL Chiemsee Triathlon – Das Rennen once again brings high-class sports to Bavaria's most beautiful spots.
The start of the triathlon is located at the eastern shore of the largest lake in Bavaria, the Chiemsee, in the picturesque village of Chieming. Athletes can find the sportive challenge on the Half Distance (2 kilometres swimming, 80 kilometres cycling and 20 kilometres running) or on the Olympic Distance (1,5 kilometre swimming, 40 kilometres cycling and 10 kilometes running)
Starting at the Chieming Bay, the athletes plunge into the waters of the so-called "Bavarian Sea" and swim towards the world-famous Herreninsel. The bike course leads athletes on a circuit through the idyllic Chiemgau in the shadow of the impressive Prealps, before the running course leads alongside the shores of the Chiemsee. Athletes will celebrate their finish at the sunset!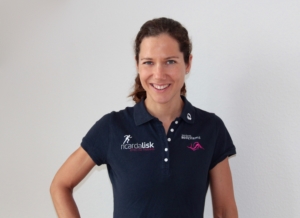 Dear triathletes, dear friends of triathlon sport,
As patron, I warmly welcome you and look forward to seeing you at the EBERL Chiemsee Triathlon.
I have to admit that I was afraid that this wonderful event would no longer take place. But Sven Hindl and his amazing team managed to defy all odds again. Of course, a big thank you also goes to the many loyal volunteers, the sponsors, and of course all the participants who will help us to be able to celebrate a great triathlon festival again on June 25, 2022.
I look forward to you all!
Ricarda