Even days after the 8th Eberl Chiemsee Triathlon, the sporting event still makes for happy faces. For example at the Austrian winning team of the mixed team relay. The "BSP Mitte #luckysgang" relay has picked up its price, a VW bus worth tens of thousands of euros, from Autohaus Osenstätter. "We were stunned to win such a prize!'", Summarized coach Franz Lugstein the reactions in the ÖTrV junior performance center Salzburg, which he coaches.
Mixed Team Relay is the name of the modern triathlon format, which will be Olympic for the first time in 2020 and had its premiere at the Chiemgau Triathlon Festival in a modified form on June 29th. It is a team race in which each team member completes a full triathlon with swimming, cycling and running. At the EBERL Chiemsee Triathlon, there are teams of three people – including at least one woman. The distances are short with 0.2km swimming, 6.5km cycling and 1.9km running so that anyone can do it.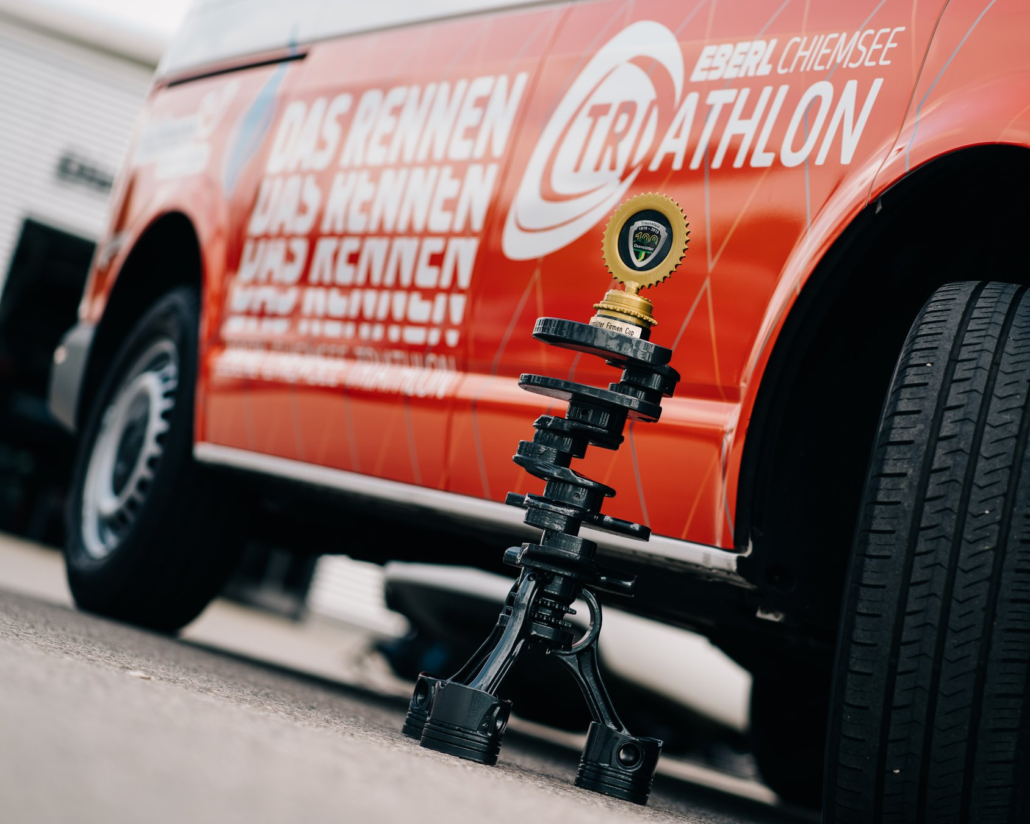 With tri-world champion Daniel Unger or DTU CEO Matthias Zöll, a few prominent names were at the start. The race showed what the organizers had hoped for: pure action. The video now published on YouTube prooves that. The teams fought for every second, took a header from the Chieming jetty, jumped onto their bikes and swaped timing chips to the next team member as fast as possible.
When Katharina Loidl heard of the winning price for the first time, it was only a few seconds before the start. She says:
"That was a great motivation for the race!"
After 1:11:16, her team crossed the finish line first. Her team included Jakob Kaiser and the two-time Paralympics winner Günther Matzinger. The trio was just 23 seconds ahead of the "Sportfreund Team by Daniel Unger". Parasportsman Günther Matzinger started the race in second place and led the team to victory in the end. The "BSP Mitte #luckysgang" was happy about the victory. Only to later realize what a winner prize they'd get for a year: a top-equipped VW bus worth about 35,000 euros. Especially the two up-and-coming talents Loidl and Kaiser will use the bus together with their training mates next year.
Ronny Steidl, Head of Marketing at Osenstätter Kraftfahrzeuge GmbH, wished the team a good trip and best of luck before their departure.
After the successful premiere, the Mixed Team Relay will also be part of the 9th EBERL Chiemsee Triathlon in June 2020.
https://www.chiemsee-triathlon.com/wp-content/uploads/2019/07/image.png
1125
1688
Christine
https://www.chiemsee-triathlon.com/wp-content/uploads/2019/03/Header.png
Christine
2019-07-28 12:50:39
2019-07-28 12:55:40
Eberl Chiemsee Triathlon: Winner VW van goes to Austria