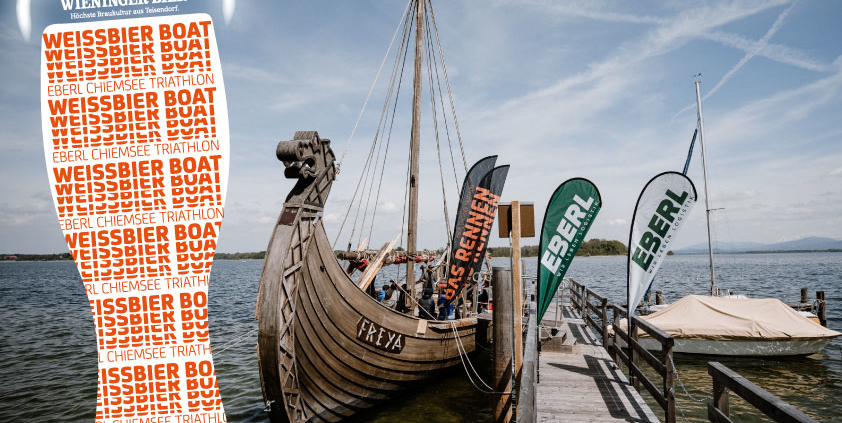 From 27th to 30th of June, there'll be one main topic in Chieming: Sports. Corporate run, school run and triathlon will attract sports enthusiasts and those who might get one, to the shores of the Chiemsee.
Those who take a closer look at the schedule of the Triathlon Festival will notice, that infact, it is not just about sports. The EBERL Chiemsee Triathlon is an event for the whole region. The numerous long-term partnerships between regional companies and events proove that, but also two new attractions this year. The Siegsdorfer Mammut – the rebuilt of a real mammoth – will be on race site. Fittingly, the Viking ship Freya will also anchor in front of Chieming.
Organizer Sven Hindl was enthusiastic: "The Freya being at our event in Chieming, is a dream came true." The Viking ship which was built for the film "Wickie on a long journey" will serve a very special purpose. Actually, it has a famous role model: The legendary Ironman Hawaii has had a "coffee boat" in Kona Bay for many years. Athletes can take a short break during their swim training in the days before the race and enjoy an espresso. On the Chiemsee there will be Weißbier handed from the boat instead of coffee, of course. "It will be non-alcoholic beer," laughs Hindl, giving a regional brewery the chance to present itself.
The "Weißbier-Boot" will invite athletes for a stopp during their swim on Saturday between 9.00 and 11.30 in the bay of Chieming.
The Freya is one of the attractions of the region, which offers locals and guests a special variety – whether for after work or corporate events. The Siegsdorfer Mammut also promotes an extraordinary project: the Siegsdorf Natural History and Mammoth Museum. The trailer with the life-size mammoth replica will be at the finish line area for photos and selfies from 27th to 30th of June. "Vikings and mammoths do fit together, don't they" laughs Sven Hindl.
https://www.chiemsee-triathlon.com/wp-content/uploads/2019/05/Weißbier-Boot.jpg
595
842
Christine
https://www.chiemsee-triathlon.com/wp-content/uploads/2019/03/Header.png
Christine
2019-06-23 06:38:26
2019-06-21 18:03:39
A Viking ship and a mammoth at the Eberl Chiemsee Triathlon